Photo: justpictures.ch
---
Cyrill Geyer, Sven Berger and Antonio Rizzello. What do these three players have in common? They are all born – some first, some later – during the 80s. Moreover, they were all cult players of Rapperswil. Now, they have something more in common… after Cyrill and Sven in fact, Antonio Rizzello is the third player who has honour of seeing his jersey hung under the roof of the St. Galler Kantonalbank Arena. Right, because Rappi decided to retire his jersey after that Antonio put his career to an end at the end of last season.
Antonio Rizzello collected 758 appearances with Rappi. When we think about him, we think about a hard worker. Which is not a derogatory term or anything like that. Somehow, a team needs top class players as much as hard working guys who do the dirty job. When we think about him, we think about a forward that always gave all for the jersey and not for nothing was the team's captain for several seasons.
We think about a player who even represented Switzerland – from the U16 until the U20 level – and that probably had the potential to do even more in terms of points scored in NLA during his career. In fact, when it comes to points scored, Antonio gave his best in the NLB where he felt at ease also thanks to the fact that he played a key role in the top six and his TOI was higher compared to the time spent in the NLA.
Surely Antonio is a serious professional. A player who always gave the 100% and that collected almost 1'000 appearances between the NLA and the NLB.
Finally, then, when we think about Antonio, we automatically think about Rapperswil. 758 out of the 917 career appearances in fact, were collected with the jersey of Rappi!
Antonio played the last years of junior hockey in Rapperswil and made his NLA debut with the first team during the 2001-02 season. The following season he collected another NLA appearances, but it was starting from the 2003-04 season – with Kari Eloranta as the coach – that he established himself in the first team and even made it clear that he had some potential. Moreover, he even scored his first points…
On October 25th, 2003, Antonio Rizzello scored his first NLA career point. On that occasion Rapperswil hosted Fribourg Gottéron and suffered a 5-4 defeat. Antonio, anyway, assisted Stefan Hürlimann for the first goal of the night.
On February 22nd, 2004, then, it came the day Antonio cannot ever forget. The goal of his first NLA career goal. On that occasion Rappi hosted Kloten and earned a 4-3 win. Antonio scored the first goal of the night assisted by Stefan Hürlimann and Patrizio Morger.
Those were the first two of the total 321 points scored between the NLA and the NLB. Almost all of them were tallied with the jersey of Rapperswil. Right, "almost" all of them. That is because Antonio Rizzello did not play always and only for Rappi. Between 2006 and 2008 in fact, he played for Langnau and Fribourg Gottéron. Let us not forget, moreover, that he also played this last season with the GCK Lions in the Swiss League before hanging up his skates.
There is no denying, however, that Rapperswil was the true love of this player!
Antonio Rizzello had to digest a very bitter relegation with the club at the end of the 2014-15 season. But he also had the chance to taste two joys, both during the 2017-18 season played as the team's captain.
That year in fact, Antonio played a big role in helping the team to win the Swiss Cup and to gain the promotion back to the NLA at the end of a thrilling league qualification series played against Kloten.
And perhaps the fate wanted that during that league qualification series played against Kloten Antonio even scored his last career goal with the jersey of Rapperswil. Namely, he scored his last career goal with Rappi against the same team of the first career goal.
That last goal came during game-1 of the LQ played at the SwissArena.
5'163 days after his first career goal in fact, game-1 of the LQ series was scheduled and Rapperswil earned a 4-1 road win. Antonio scored the last goal of the night that set the final score.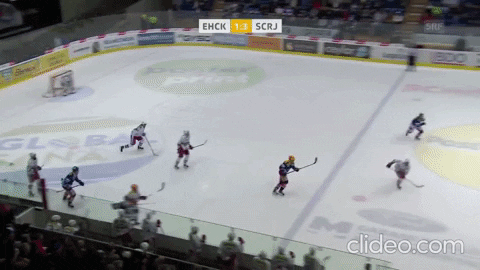 Anyway, Kloten was somehow always in Antonio Rizzello's destiny. On December 8th, 2001, he made his debut as a professional against Kloten. On February 22nd, 2004, he scored his first career goal against Kloten. On April 12th, 2018, he scored his last goal with the jersey of Rapperswil against Kloten. And finally, last but not least, on February 28th, 2020, he played his last game as a professional – with the GCK Lions – right in Kloten where he even had 2 assists.
Was he mad at Kloten for some reason? Who knows? One thing is sure though, he cared a lot about Rapperswil.
Even though, frankly speaking, his last season played for Rappi (2018-19) was not a very satisfying one. The team, that just came back to the top division, struggled a lot and Antonio didn't play a lot. Perhaps not enough and undeservedly so. Antonio Rizzello, however, also that year proved to be a serious professional. He never complained and respected the choice also for the good of the club that gave him a lot throughout all his career.
And now, the next step will be to admire his jersey under the roof of the St. Galler Kantonalbank Arena. That is a great honour for this player who earned a lot of respect.
Perhaps he wasn't talented as Connor McDavid and he wasn't that kind of a player capable of gifting the fans with moments of magic hockey. From the outside, however, our impression is that he has always been a serious professional and a guy who gave it all for the team.
A precious player capable of finding place for so many years in a team that plays in the top tier of Swiss hockey… a leader on ice and a person that didn't think only about ice hockey. During the second part of his career in fact, Antonio Rizzello even worked part-time (20-40%) in the accounting department of an architecture company based in Rapperswil. We mean, not only was he a serious professional but also a hard-working guy with his head on straight. All this, it is more than enough to give him a round of applause.
Congrats for your brilliant career dear Antonio, all the best for the future!