Rapperswil's SD Janick Steinmann is doing a terrific job and was able to bring several interesting players to the Canton of St. Gallen. Also import players, of course. His last transfer answers to the name of Steve Moses, 30 years old American forward who spent the last two seasons and a half in Helsinki where he played in the KHL for Jokerit.
Let's get to know more about the new import that will be at Jeff Tomlinson's disposal for next season.
Name: Steve
Surname: Moses
Nation: USA
Date of Birth: 9 agosto 1989
Position: RW
If you want to follow him on social networks:
STEVE MOSES – CAREER
Steve Moses was born on August 9th, 1989, in Leominster (MA, USA) and played junior hockey with the Boston Junior Bruins (EJHL) until 2008. He was drafted in 2006 by the Lewiston Maineiacs in 209th overall position to play major junior hockey in the CHL but then, instead, he opted for enrolling at the University of Hampshire and played for the Wildcats between 2008 and 2012.
He played the last season with the University of Hampshire as the alternate captain of the team. After that, he even made his AHL debut during the final part of the season with the Connecticut Whale, where he also played alongside Thomas Kundratek (former Davos) and most and above all Casey Wellmann!
Steve is undrafted but earned the chance to play in the AHL with the Connecticut Whale after a try-out. Nevertheless, he was unable to gain any NHL interest and therefore opted to continue his career in Europe starting from the 2012-13 season.
Therefore, he joined the Jokerit Helsinki where he stayed three seasons, playing also in 2014-15 the first season of the history of the club in the KHL. The latter was an extremely successful season for Steve… his offensive line with Petr Koukal and Linus Omark in fact, earned the nickname "LOKOMO" since it was one of the most effective of the league.
But that's not all. His brilliant performances finally gained him some NHL interest. In fact, the Nashville Predators signed him for the 2015-16 season. The Predators, however, never really gave him a chance and assigned him to their AHL farm-team – the Milwaukee Admirals – on late September. Two months later then, considering the limited chances to make the debut in the most prestigious league of the world, Steve Moses moved back to the KHL where he played the remainder of the season with the SKA St. Petersburg. After that, he remained in St .Petersburg also the next season.
After the period in Russia, Steve Moses moved back once again oversea and joined the Rochester Americans (AHL) on the eve of the 2017-18 season. This, in order to try once again to follow his NHL dream. A dream that, however, also in that case, remained just a dream…
Even more so considering that, in December 2017, he was suspended by the club for breach of contract. This is what the club said, without further explanation.
At that point, Steve Moses moved back where he felt the best. In Helsinki, where he wore again the jersey of the Jokerit and where he stayed until now. Until when he decided to move to Switzerland to play for Rapperswil.
STEVE MOSES – THE PLAYER
The statistics prove that Steve Moses is a forward who can score goals. He collected 260 KHL appearances and tallied 165 points, including 85 goals. He had, however, few ups and downs during his career. In order to get to know more about him, we got in touch with someone who's been following him from close lately.
Therefore, we had the pleasure to know Pekka Jalonen, sport writer at "Iltalehti". We asked him about Steve Moses' strengths and weaknesses. Below, his impressions.
"
First of all, Steve is a very good and fast skater. That is his biggest strength as a hockey player.
He can also score but he needs to play with somebody who can pass him the puck well. That´s what happened with Jokerit during his first season in KHL when Moses was playing with Linus Omark (who is also coming to Switzerland). Moses scored 36 goals and broke the KHL record for most goals in single season.
His last season with Jokerit wasn't so good, he sustained many injuries and didn't find his place on first or second line or first power play unit. Moses needs to have a good center (or a line mate) to give him the puck when he is at full speed.
Moses is a small player, but he is not afraid to drive to the net or playing along the boards. I think the style of play in Switzerland is good for Moses because he likes to play an offensive game and score goals.
There should be someone to take care of defense on his line as they had in Jokerit though. Omark was making the plays, Moses was scoring goals and center Petr Koukal took care of defense.
As a person Moses is humble, nice and easy to talk to.
"
Thank you very much, Pekka.
STEVE MOSES – OUR IMPRESSION
Steve Moses is fast. He doesn't slack off when it comes to playing physical and can put the puck in the net when well assisted. These are all characteristics that well suits Swiss hockey. Ideally, he can do very well in Rapperswil considering that the roster of the Lakers has enough players that can help Steve Moses to be at the top of his game.
It's true that Steve had several ups and downs during his career. Probably due to the fact, that it depends who he was playing with. We mean, we think that he's not that kind of a player that can make the difference on his own. However, it's likely that in Rapperswil he will have to step up to the plate and take on more responsibility. This could be a real "test" for him… therefore, it's likely that he will be extremely motivated to do well. And as we all know, motivation can really make the difference.
Welcome to Switzerland, Steve!
FUN FACT
Steve Moses had already to deal with Switzerland. Back in 2013, he played at the Spengler Cup with Jokerit Helsinki and even faced Genève Servette. He didn't score points against the Eagles.
Moreover, he played against our National Team twice with the United States. He played on May 14th, 2015, at the Worlds in Czech Republic, when the USA earned a 3-1 win and Steve Moses didn't score points.
Mostly though, Steve played against Switzerland on November 9th, 2013, at the Deutschland Cup. On that occasion, the USA earned a crazy 5-4 comeback win and Steve Moses scored the game winning goal at 86 seconds to the end. The Swiss' goalie was Lukas Meili, who also played a game with Rapperswil during the 2011-12 season. To note, as a fun fact, that on that game Juraj Simek scored two goals for Switzerland. Anyway, here is the video of the goal scored by Steve Moses.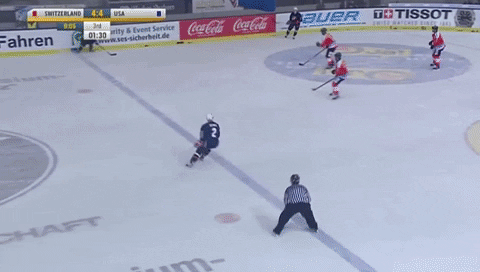 Steve Moses played also another four games against Swiss teams. In 2012 and 2013 in fact, when he was playing for Jokerit, he played two times against the ZSC Lions and two times Zug during the European Trophy competition. On those occasions, he didn't score goals.
CAREER STATS

VIDEOS