That's it, it's Swiss Ice Hockey Cup final time. The game is scheduled for February 2nd, 2020 – 6pm – at the Vaudoise Arena of Lausanne!
Ajoie (Swiss League) and Davos (National League) will fight for the trophy. These two teams have never faced each other in this competition. It's a game that, on paper, is the classic "David vs Goliath". Obviously Ajoie is "David". A team that, however, already got rid of several "Goliath" during the 2019-20 edition of the Swiss Cup.
None of these two teams ever won the trophy. Davos made it once all the way to the final, in 2018, and lost it against Rapperswil, that back then were a Swiss League side. This game it's literally a do-or-die. Either you win the trophy, or you travel back home with nothing!
On paper, Davos are the clear favourites but… there is a "but". Because a cup final is always a game that has no rules. You don't play a cup final, you win it!
Here a brief introduction of the two finalists. Two teams that, when it comes to official games, haven't faced each other since the 1991-92 season, when both still played in the NLB!
HC AJOIE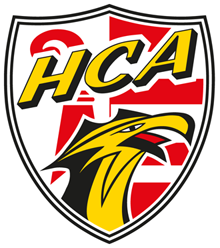 The road to the final
1/16 – EHC WIKI-Münsingen vs HC Ajoie 2-8
1/8 – HC Ajoie vs Lausanne HC 4-3 (OT)
1/4 – HC Ajoie vs ZSC Lions 6-3
1/2 – HC Ajoie vs EHC Biel-Bienne 4-3
Gary Sheehan's troops had a fantastic ride during which they got rid of three National League teams. We mean, Ajoie already wrote three fantastic "David vs Goliath" stories. And if it's true that all good things come in threes, why shouldn't they come in fours? Davos are warned.
Swiss Cup leading scorers
12 points (3G, 9A) – Michael-Philip Devos
11 points (8G, 3A) – Jonathan Hazen
6 points (1G, 5A) – Reto Schmutz
Michael-Philip Devos and Jonathan Hazen are the Jurassiens precious gems. They tallied an impressive number of points in five cup games. Reto Schmutz follows third placed. He's a guy who collected over 400 Swiss League appearances but collected also 37 National League appearances with Rapperswil.
HC DAVOS
The road to the final

1/16 – EHC Frauenfeld vs HC Davos 0-12
1/8 – HC Davos vs HC Lugano 2-1 (SO)
1/4 – HC Davos vs SC Bern 4-3 (OT)
1/2 – SC Rapperswil-Jona Lakers vs HC Davos 1-4
Firstly, Davos got rid of Frauenfeld. And then, they won against Lugano, Bern and Rapperswil. Christian Wohlwend's troops had a fantastic ride and proved that they really wanted this cup final.
Swiss Cup leading scorers
6 points (2G, 4A) – Andres Ambühl
4 points (3G, 1A) – Samuel Guerra
4 points (1G, 3A) – Mattias Tedenby
"Evergreen" Andres Ambühl played a key role for Davos in the cup. And we're pretty sure that he will play a key role also in the final. Samuel Guerra and Mattias Tedenby follow second placed tied on points. To note that also the former Ibex Otso Rantakari (now at Bienne) scored 4 points. In fact, he had 4 assists during the first cup game played against Frauenfeld.
---
AJOIE WILL WIN THE CUP BECAUSE…

Enthusiasm is at its highest when it comes to Ajoie, that is about to play the game that is likely to be the most important in their history. As we all know, enthusiasm can seriously make the difference in a do-or-die game. The Jurassiens will be followed by thousands of people in Lausanne. All people that wouldn't miss this game for nothing in the world and that will create a fantastic environment!
Sheehan's troops, moreover, can count on two players who can really make the difference. We're talking about Michael-Philip Devos and Jonathan Hazen. The two Canadians already proved capable of making the difference in this Swiss Cup also against National League teams. But let us not forget all the other players. For many of them it will be the most important game of the career, and certainly they have every intention of winning this trophy. Oftentimes, certain opportunities, only happens once.
Finally, Davos are the clear favourites on paper. Therefore, Ajoie will have relatively nothing to lose and can take advantage of this fact in order to play the game of their life. It's as simple as that.
DAVOS WILL WIN THE CUP BECAUSE…

Let's face it, Davos are the clear favourites. Christian Wohlwend's troops are among the best National League teams this season and are just too good to lose this game. Moreover, the Ibexes had already lost a Swiss Cup final against a Swiss League side back on 2018, and this fact is something that will make them even more willing to win this trophy.
Let us not forget, moreover, that "David vs Goliath" stories are beautiful because don't happen very often. Why should it happen this time?
Davos are coming off a very disappointing season and started a new era with a new coach and new staff. To win this Swiss Cup would be the best way to start this new era after the one of Del Curto. In fact, to win this trophy would be a huge confidence booster for the whole team. In fact, we're pretty sure that Davos, the most successful Swiss club, will do everything to win it. Even more so, as they've never won it yet in history.
---
SEE YOU THIS SUNDAY, FEBRUARY 2nd ,2020 AT 6PM
So, guys. Who will win this Swiss Cup? All we can do, is to wish all the best to the two teams. Good luck Ajoie and Davos, and may the best team win 🙂