Photo: justpictures.ch
---
Isacco Dotti is the perfect example that perseverance pays off. His career has been like a rollercoaster so far.
He made his National League debut when he was very young… more precisely, he made his NL debut on December 20th, 2011, when Ambrì-Piotta were playing in Bienne – the destiny… – and suffered a 4-1 road defeat. Back then, Alain Demuth gave the lead to the guys coached by Kevin Constantine. But then Alain Mieville, Mathieu Tschantré, Sébastien Bordeleau and Gianni Ehrensperger earned the win for the Seeländer.
After that debut, Isacco played also the following game with the first team of Ambrì-Piotta. A game that, at the Valascia, the Leventinesi won 4-3 after overtime against Bern thanks to the goals scored by Inti Pestoni, Eric Landry, Raeto Raffainer and Julian Walker.
But then, his career had several ups and downs. He collected 12 NL appearances also during the 2012-13 season. But then, he moved to Biasca (SwissDiv1) where he played for few seasons, helping the team to get promoted to the Swiss League, and the Ticino Rockets as the captain of the team.
Starting from last season instead… or rather, starting from the playout of the 2017-18 season… Isacco Dotti has his place with the first team of Ambrì-Piotta. Luca Cereda trusts him and he repays him with solid performances most of the time. Isacco is mainly a defensive defenseman. As everybody, however, for sure he had the dream of contributing – in terms of points – to the win of his team. And so…
First NL point
He scored his first NL point on March 27th, 2018. That day, it was game-1 of the playout final between Ambrì-Piotta and Kloten. Luca Cereda's troops earned a 4-1 thanks to the goals scored by Cory Emmerton, Dominic Zwerger, Christian Pinana and Noele Trisconi. Isacco, had the assist on the occasion of the goal scored by Dominic Zwerger that temporary gave the Leventinesi a 2-goals lead.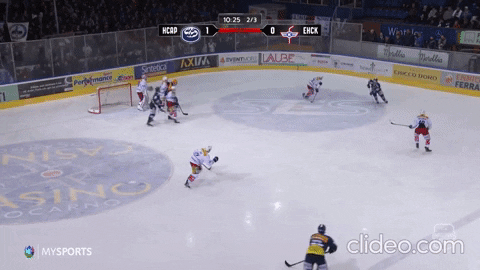 First NL goal
Last night then, on January 18th, 2020, he scored his first National League goal! Always in front of the Curva Sud, assisted by Noele Trisconi and Elias Bianchi. Isacco's goal put Ambrì-Piotta temporary 3-1 ahead in the game that then the Leventinesi won 5-4 after overtime. The opponents were the same of 2'951 days before, when he had made his National League debut. This time however, contrary to that day of December 2011, the Leventinesi finally won the game. Therefore, Isacco could really enjoy his first goal in the top tier of Swiss hockey!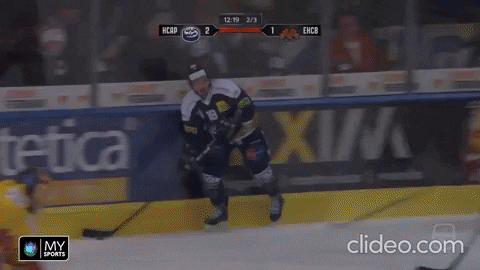 As we said, Isacco is not a player who has to score goals. Rather, he has to prevent the opponents from scoring and in this regard he is doing an excellent job. But having said that…
Congrats for your first National League goal, Isacco. We hope for you that this was only the first one of many to come 🙂