Photo: justpictures.ch
---
When you judge a player, the points scored can't be the only aspect to consider. Even more so when it comes to a defenseman. We'll talk later about points.
Let's start by saying that Dominik Egli was always considered a talented defenseman. He was born in 1998 and after playing for the youth teams of Frauenfeld, Thurgau and Piker Oberthurgau, he transferred to Kloten at the U20 level on the eve of the 2015-16 season.
With the Airmen then, he made his NL debut during the following season (2016-17). It was November 29th, 2016, and the team back then coached by Pekka Tirkkonen – whose back-up goalie was Melvin Nyffeler – hosted Lugano at the SWISS Arena. Dominik played his first National League game in the first defensive pair with Lukas Frick and had a time on ice of 17:56, including over 4 minutes during power-play.
We mean, an important debut.
It's been a while since that day. Dominik Egli became an increasingly important player for Kloten and at the end of the 2017-18 season, the one ended with the Airmen relegated, he transferred to Bienne.
However, he remained only one season in the Seeland. You could see that the guy has got talent, but he still had work to do in order to really blossom.
He blossomed this season though, when Janick Steinmann signed him for Rapperswil where he could play a key role. Dominik put an out of the ordinary personality on display for a guy his age from day one… right, because let us not forget that he is only 21.
Jeff Tomlinson gave him confidence, and this paid off. Dominik in fact, delivered excellent performances, solid performances during which he proved to be able to read the game well and during which he didn't hesitate to step up. Moreover, he turned out to be even a scoring machine.
Ok guys, now it's time to talk about points.
First National League point
Dominik Egli scored his first point on December 2nd, 2016, at the Hallenstadion in Zürich during his second appearance in the top tier of Swiss hockey. During that game, Kloten suffered a 4-2 road defeat against the ZSC Lions but nevertheless Dominik had an assist when Drew Shore scored the first goal for the visiting side.
First National League goal
Dominik needed to wait the following season in order to score his first National League goal. More precisely, he had to wait until October 17th, 2017… when Kloten hosted Lugano and earned a 3-1 home. Dominik Egli scored the second goal of the Airmen and his goal turned out to be the game winning goal.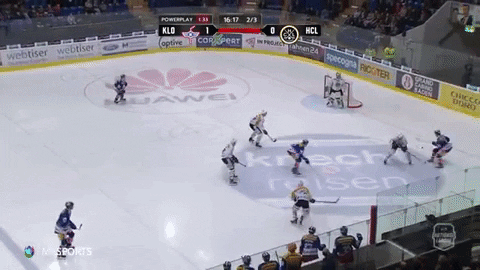 After that goal, Dominik scored three more that season. Including one, on April 12th, 2018, scored right against Rapperswil. That day, it was game-1 of the League Qualification that finished with Rappi earning the promotion. Game-1 was won by Rappi away from home and Dominik Egli scored the consolation goal for the Airmen.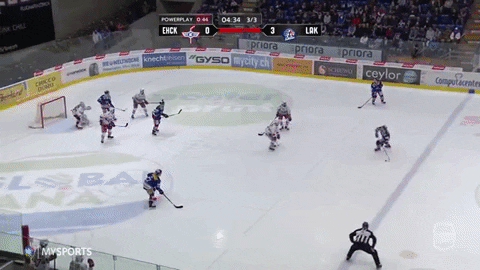 The year in Bienne…
The following season (2018-19), Dominik transferred to Bienne. Where things didn't work out perfectly. Again, you could see that this guy has got talent, but you could also see that he wasn't ready to make his mark in the National League yet. With the Seeländers, Dominik Egli played 23 games tallying 5 points (1 goal, 4 assists).
For the rest, he moved back to Kloten on loan in the Swiss League where he played also the playoffs.
Finally, Rapperswil!
Until when, Janick Steinmann came along… who decided to bet on him and brought him to Rapperswil.
You could think that it was a good deal on the medium term. We mean, he looked like a defenseman that, with time, could play a key role in a National League team. Wrong, it wasn't a good deal on the medium term… it was a great deal on the very short term. Because Dominik Egli, also thanks to the technical staff that trusted him, literally blossomed and now he's one of the best Swiss defensemen around. To the point that Patrick Fischer already called him in the National Team!
He had an assist in the first game of the season in Bern, then he had another one at home against Ambrì-Piotta in the second game of the season and he had also another one in the third game… The third game that was played in Bienne (!), where Dominik had a secondary assist when Roman Cervenka scored the game winning goal
In Lausanne then, on October 2nd, he also scored his first goal for his new team.
It was the first goal of the five scored to date.
With Rappi, Dominik Egli is proving to be a very complete defenseman. Quite solid in defence, even though at times his lack of experience obviously comes to light. And very effective in the offensive zone. By now, November 11th, 2019, he's been an incredible leading scorer among the defensemen of the National League with 27 points in 27 games. Needless to say – he already broke his career points record in a single season.
He's normally paired with Fluring Randegger and the pair is fantastic. The two guys together are a mix of experience, talent and commitment.
Dominik is also the Top Scorer of the team, and he is effective both at even-strength and during power-play. He was on ice when his team scored 39 goals and when conceded only 17. That makes an overall of "+22" which is the best figure among the National League defensemen. (source: nlicedata.com)
He even blocked 24 shots, only Daniel Vukovic, Cédric Hächler and Flurin Randegger blocked more shots for Rapperswil. Let us not forget, moreover, that he was assessed only 2 minutes of penalty.
To sum up, Dominik Egli is a very complete defenseman. He is solid in defence, very committed, he can score points and he is even disciplined. Without forgetting that, as we mentioned already above, he's got an out of the ordinary personality for a guy his age.
We mean, the perfect prototype of the modern defenseman. And he has even room for improvement. In other words: Dominik Egli.
All the best for your career, Dominik!