Look, guys, there is no point in beating around the bush. With all due respect, we think it's safe to say that Fribourg Gottéron aren't the ones who bet on their local talent the most in Switzerland. Raw numbers say that not enough young talents come from the youth organization of the Dragons, or at least not enough young talents find space in the first team. Moreover, the first team's average age is the highest of the whole National League.
Having said that, we think it's also safe to say that – from time to time – some young talents blossom also on the shores of the Sarine. Let's take the 19 years old Sandro Schmid for example.
Sandro played in the youth organization of Fribourg Gottéron until 2016 and then he joined the Malmö Redhawks in Sweden where he played three seasons in the U18 and U20.
Actually, Sandro wasn't the first Swiss who joined Malmö. To say, currently also Timotée Schaller – who is also a product of the youth organization of Gottéron – is playing in Sweden with the U18 team of the Redhawks.
In the past, moreover, also other young Swiss guys joined the same team in Sweden for a while. We're talking about Kevin Fiala (Minnesota Wild, NHL), Damien Riat (Biel-Bienne) and Makai Holdener (HC La Chaux-de-Fonds).
Having said that, let's go back to Sandro Schmid. Last season, with the U20 of the Malmö Redhawks, he did well. He collected 39 appearances tallying 40 points and was the leading scorer of the team. Let us not forget, moreover, that he had the best face-off percentage (62.5%) of the whole J20 SuperElit in Sweden.
From this season then, he came back to Fribourg. And on Saturday night against Bern, at his 20th National League appearance, he experienced a moment he will never forget. In fact, he scored his first goal in the top tier of Swiss hockey. A goal that, moreover, turned out to be the game winning goal.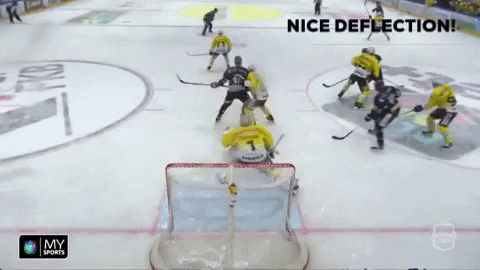 What a nice deflection. We mean, first National League career goal… scored during the Zähringen derby against Bern and that turned out to be the game winning goal. What more could you wish for?!
The hope is, for him and for the club, that it was "only" the first of many more goals to come. We wish Sandro Schmid all the best for his career, keep it up man!