Photo: justpictures.ch
---
12th week – 02.11.2019 – 08.12.2019
---
THE TEAM "ON FIRE"



The professional American boxer Sugar Ray Robinson (1921-1989) said that "to be a champ, you have to believe in yourself when nobody else will". And there a is reason to believe that Kari Jalonen was saying similar things to his players very often during these first endless two and a half months of regular season.
Bern started the season earning two consecutive wins against Rapperswil and Ambrì-Piotta. But then, they started a negative period that seemed to be never-ending. Even after winning some game, moreover, the Bears failed the next one. We mean, there were those that – wrongly – thought the title holders would never recover. But that is exactly the moment when, as Sugar Ray Robinson said, you must believe in yourself.
Kari Jalonen's guys obviously did it. But despite the fact, that the performances were getting better, the results were still negative. Because, as we all know, when things go south… it's likely that they're getting even worse for some time, and Lady Luck turns her back on you.
Then, that 2-1 road win came along, earned against Genève Servette… and then this week, two other wins earned against Lausanne and Fribourg Gottéron. Therefore, in other words, the winners of 3 of their last 4 titles finally earned three consecutive wins in December, for the first time this season!
Finally, this last week also the episodes turned in their favour and finally they earned points with continuity. Finally, this last week, the Bears seemed to come out of the hibernation mode for real, right on the eve of the second international break of the season.
Now, not all the problems have been solved yet. There is still the impression that Jalonen's guys don't bring in enough emotions into the games and that's a pity. Yet, the latest performances were solid and all in all convincing.
All this lead to build up self-confidence. Let's take the games played this last week for example. Both against Lausanne and Fribourg Gottéron, Bern experienced few complicated moments… moments that, in the recent past, would have led them to lose focus. And instead, in both games Kari Jalonen's troops never panicked and always reacted. Their body language spoke for itself.
Now it's time for others to be scared. Because it's likely that the results and the performances of this first two months and a half of 2019-20 season left wounds in the Bears' souls… but as it's well known, a wounded Bear is very, very and extremely, dangerous.
And so, welcome back Bern!
THE THREE STARS OF THE WEEK

Jeff Tomlinson (Coach, SC Rapperswil-Jona Lakers)
Despite the 5-4 shootout defeat suffered on Friday night in Zürich, Rapperswil were our number one contender for team of the week.
Rappi delivered two very good performance against the ZSC Lions on the road and against Genève Servette at home. In both cases it was clear for the umpteenth time – if necessary – that this team is a very tough nut to crack this season.
The defence is quite solid and can count on an excellent goalie. The forwards work hard and can gift the fans with moments of magic hockey. The top-class players make the difference. And the coach seems able to manage perfectly this group, that perhaps lacks talent compared to the other National League teams. But a group that is second to no one when it comes to commitment.
It's clear that SD Steinmann is doing a fantastic job. And since we believe in that – even though Kevin Clark and Roman Cervenka stood out – it's unfair to reward a single player of this team. We reward then, symbolically, coach Jeff Tomlinson with one of our stars for the second consecutive week!
Ryan Gunderson (HC Fribourg Gottéron)
When we gathered information on Ryan Gunderson on the eve of this season, we were told that in Sweden he'd earned the nickname "Mr. Perfect". No prizes for guessing why they called him like that when you see him play…
Ryan in fact, is impressive. He's solid in the defensive zone and is a hard worker penalty killer. The offensive play then, is his strength. He's resourceful and decisive. Not for nothing, he's the Top Scorer of the team other than – with Dominik Egli – one of the only two National League defensemen who is wearing the Top Scorer jersey!
Obviously, Fribourg Gottéron already extended his contract. We think it's safe to say in fact, that when it comes to imports defensemen, Ryan Gunderson is second to no one. He proved that also this last week as he delivered fantastic performances!
Sandro Aeschlimann (HC Davos)
Sandro Aeschlimann joined Davos last summer after that he'd spent last season as the back-up of Tobias Stephan in Zug. There were those who thought that he was way too young and not ready to play a key role between the pipes of a National League team.
Wrong.
From the very beginning of this season, Sandro Aeschlimann has been delivering very good performances. This last week then, he was outstanding. He played two of the three games. The first one against Langnau when he was brilliant and made the right saves at the right time. The second one against Lausanne when he was incredible to say the least, also thanks to several big saves! To sum up, this last week he saved the 94.3% of the shots faced, only Sandro Zurkirchen of Lugano had a slightly higher saving percentage.
We mean, what a goalie! Let us not forget, moreover, that Davos can also count on Joren van Pottelberghe who is doing a good job. Well, what can we say? The Ibexes have no problem when it comes to goalies.
THE SPECIAL MENTIONS FOR…

Better late than never… Benoit Jecker (HC Lugano)
Benoit Jecker is a defensive defenseman, it's therefore no surprise that he doesn't make it very often into the scoresheet. In fact, he makes it even less when it comes to goals scored… He joined Lugano last season and finally, on Friday night in Langnau, he scored his first goal for the Bianconeri.
We mean, better late than never 🙂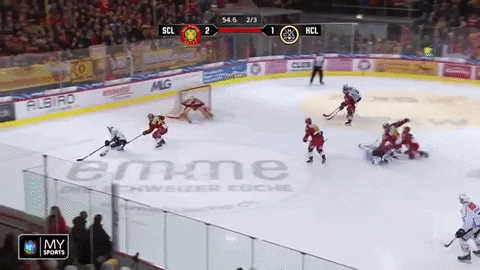 One and one, and what a "one"… (HC Ambrì-Piotta)
Ambrì-Piotta played only one game this week. But what a game! In fact, Ambrì-Piotta and Zug gifted the fans with the most exciting game of the week. Two teams that delivered a very good performance, tough play, nice play, controversial calls, warm fans, overtime period… we mean, these two teams didn't miss anything. And Ambrì-Piotta won their only game of the week. And what a win!
Look who is back… Noah Schneeberger (SC Rapperswil-Jona Lakers)
Noah Schneeberger has been loaned to Rapperswil lately… look, guys, there is no point in beating round the bush. Noah's performances on the shores of the Sarine weren't good enough. With the Rappi jersey instead, he looks reborn! Both in Zürich and then at home against Genève Servette, Noah Schneeberger delivered solid performances. We mean, look who is here… or rather, look who is back 🙂
THE DISAPPOINTMENT

Lack of emotions
This last week it's hard to say who was the real disappointment. We mean, also Lausanne – the only team that lost all the games played in the last 7 days – delivered decent performances against Bern and Davos.
Right Lausanne, however, inspire us when it comes to choosing our disappointment of the week. And, to say, not only the disappointment of this last week.
Please note that we talk about the following subject after watching the fantastic game between Ambrì-Piotta and Zug. We mean, what we talk about from now on, is not to be considered the rule but, luckily, "only" a trend.
Lately, the "Finnish" style of play has become very popular. It's a kind of play with many facets. It's a kind of play that – oversimplifying – requires a lot of management of emotions and a lot of discipline. Here, we say it, discipline. Way too much discipline.
Ehy guys, let's be clear. We are not saying that players should play with a machete hidden under their equipment in order to hurt opponents… 🙂 We're not even saying that players should play dirty or anything like that.
Then, however, we think that some more emotions wouldn't hurt.
If to all this we add the "zero tolerance" that was introduced, here is that way too often games of this fantastic sport turn out to be boring.
Now, discipline is a good thing. But too much discipline, in our opinion, is likely to distort ice hockey as we know it. A sport that is based on emotions. It would be nice to have more of them.
Then again, the schedule that forces teams to play basically always two games within 24 hours or less doesn't help.
Yet, guys, in our opinion – which is debatable – some more show, that is some more tough but fair game, wouldn't hurt 🙂
We will talk again about this…