When it comes to Swiss talented players, you have to talk about Damien Brunner. Meanwhile, when it comes to "unlucky guys", you also have to talk about Damien Brunner.
The 33 years old foward is one of the rare Swiss players who can be defined as "sniper". Damien is a player who made is NL debut back in 2006 with Kloten and the he blossomed for real in Zug starting from 2009. To the point that, during the 2012-13 season, he transferred to the Detroit Red Wings (NHL) even though he was never drafted.
After his time overseas, Damien came back to Switzerland and joined Lugano during the 2014-15 season. And you may wonder if he put even some "bad luck" in the luggage.
In Ticino in fact, Damien Brunner was unlucky to say the least. When he was in good form he made clear that he's a player capable of scoring goals consistently. However, he got injured few times and that prevented him from being at the top of his game in Lugano as much as he would have wanted.
There were people saying that he'd never come back at the top of his game.
Bienne instead, bet on him for the 2018-19 season and that was a winning bet! Damien in fact, blossomed again in the Seeland and his first season was fantastic.
Then, on the eve of this season, unfortunately this unlucky guy got injured again.
And again, those people who always like to say that Damien Brunner will never be at the top of his game again came back to talk about him.
Once again, however, Damien proved to be not only a player with an above-average talent but also that he's got an impressive determination.
He cured himself and came back to play this Sunday, December 1st… and what he did? He scored, of course. He scored twice and he even scored the game winning goal that earned Bienne the win against Rapperswil!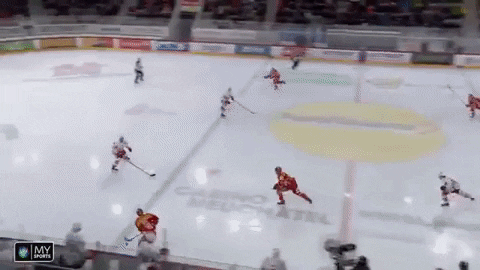 From heaven to hell. From hell to heaven. And again, from hell to heaven. Damien Brunner never gives up and always find the way to come back stronger than ever.
To the face of those saying that Damien Brunner's career is over… long live Damien!