Photo: justpictures.ch
---
9th week – 11.11.2019 – 17.11.2019
---
THE TEAM "ON FIRE"



Langnau were in serious trouble in terms of results until mid-October. The figures of the period between September 21st and October 18th were merciless: 11 games, 2 wins. We mean, the Tigers didn't suffer memorable defeats in that period, but they weren't able to win and, most and above all, they were anything but solid.
Then, a 1-0 road win against Fribourg Gottéron came thanks to a solid performance. And from that moment on, Langnau were reborn. In fact, the win earned at the BCF Arena turned out to be only the first one of five wins, including the two prestigious ones earned this week after the international break against Bern and Lugano!
In the last two games, perhaps Langnau were not spectacular but were surely very smart. Heinz Ehlers' troops were solid, capable of not panicking when under pressure and capable also of – most and above all – making the difference at the key moments of the games! Without forgetting that they could also count on Ivars Punnenovs who, even though well protected by the team, was able to make the right saves at the right times.
We mean, in short… the Tigers are back, and they're back to stay!
The season is still very long but, provided that Langnau keep it up, they have every chance of making the playoffs for the second consecutive season, and that would be the first time in history. Eventually, it would be also a well-deserved milestone, even if only because this club – that made the seriousness and the calm its trademark – continues to demonstrate to be worth the National League.
The Tigers' roster, on paper, always looks one of the weakest of the league. But then finally, thanks to the hard work, this team basically always finds the way to make its fans proud.
We mean, those who thought that last season's excellent results were just an accident must change their mind now. The Tigers mean business. At first glance it seems like that the roster at Ehlers' disposal is not that good overall… and perhaps it's true that success depends too much on the imports scoring abilities.
But the truth is that the team, considering also the limited resources, has been built perfectly. There are all the players in the right place. The latest positive results, moreover, were a huge confidence booster and we could see also this last week that Langnau can play a key role also this season.
We mean, great job Tigers. Keep it up!
THE THREE STARS OF THE WEEK

Roman Cervenka (SC Rapperswil-Jona Lakers)
Earlier this week, Connor McDavis (Edmonton Oilers, NHL) tallied 6 points in a single game. What an achievement. Few days later though, a certain Roman Cervenka did the same thing… and during the game between Rapperswil and Fribourg Gottéron (9-4 the final score), the top-class Czech forward scored one goal and added 5 assists!
Roman was at his first game after the injury and, just like the whole team, he delivered a fantastic performance against his former club Fribourg Gottéron.
After all, we're talking about a player who – when he is at the top of his game – is one of the most talented ones around. He got off to a brilliant start of the season, by earning also the nick name "Mr. Overtime", then he got injured but now he came back in style!
We mean, the Lakers are more and more a tough nut to crack and can count on players in excellent form. After the 9-4 win earned against Fribourg Gottéron we could name many of them but, as a "star", we pick Roman Cervenka.
Luca Hollenstein (EV Zug)
For obvious reasons, Luca Hollentein is not collecting many appearances. In fact, life is hard when you're Leonardo Genoni's back up. We mean, the latter might not be at the top of his game yet, but he's still the best goalie around.
And so, Luca Hollenstein must jump at use every opportunity to make a name for himself. Just like he did on Saturday night in Bienne, where – also because Leonardo Genoni was injured – he was the nr. one goalie for the second time this season. And for the second time this season he proved to be impressively talented!
It's not easy to play only few games and to stay focused enough to be ready when it's your time to play. Even more so when you're only 19 and at your first National League season. Well, Luca proved that he's able to do so. In Bienne he was impressive, and he played a key role. His performance earned him "our" star. This guy can really have an outstanding career. Keep it up man, congrats!
Killian Mottet (HC Fribourg Gottéron)
Let's exclude Saturday night's game in Rapperswil, a game during which it all went wrong, see Kevin Clark's goal scored assisted by the assistant ref after 7 seconds of play… and a game during which, nevertheless, Killian Mottet scored one goal.
The thing is that we want to reward Killian Mottet because, perhaps for the first time after one year – that is since when he extended his contract with the club – he's able to deliver very good performances with consistency.
This last week he tallied 4 points in 3 games and overall, he scored at least 1 point in 5 of the last 6 games. But that's not the point. The point is that finally he's back at the top of his game and he's back to work hard. Maybe the contract extension put a lot of pressure on him, or maybe he just had a negative time, but what really matters for the Dragons right now is that finally Killian Mottet is back. And so… welcome back man, keep it up!
THE SPECIAL MENTIONS FOR…

Bruises, bruises, bruises… – Andrew MacDonald (SC Bern)
Andrew MacDonald joined Bern in the second part of October and had a dreadful start of his career in Switzerland. During the first game and during the first period of play, he was assessed two penalties that cost his team two goals. Then he improved.
He's not a spectacular defenseman, but he can do a terrific defensive job. Moreover, he doesn't slack off when it comes to blocking shots. This week in two games – played against Langnau and ZSC Lions – he blocked 16 shots! We mean, surely this Sunday, considering the number of bruises ice was his best friend:)
A first special one… Rehak Frantisek (SC Rapperswil-Jona Lakers)
Rehak Frantisek will never forget the game played on November 16th against Fribourg Gottéron. On the occasion, he collected his 5th National League appearance… and he even scored his first career goal.
And what a goal! In fact, it was a fantastic goal, a real hammer. Moreover, his goal turned out to be the turning point of the game. We mean, this is what you call a special first goal!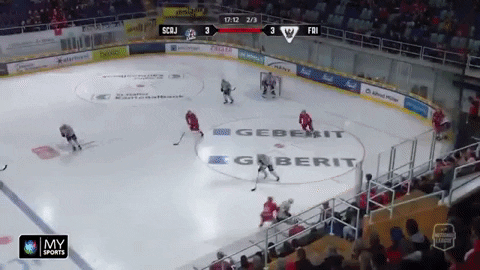 Meanwhile, I score… Gregory Hofmann (EV Zug)
Gregory Hofmann is a real scoring machine. Zug aren't at the top of their game yet… but Gregory is.
Let's take Friday night's game. The Bulls hosted Davos and suffered a 5-4 defeat. Dan Tangnes' troops weren't solid enough and the defeat was a deserved one. Hofmann, however, tried his hardest to give his team a chance and he scored a fantastic hat-trick! We mean, Zug have room for improvement, but meanwhile, Gregory scores!
THE DISAPPOINTMENT

HC Lugano

It's been a tough week for Lugano, really. Firstly, they suffered a clear 7-2 road defeat against Zürich and then a 2-1 home one against Langnau. And now, the Bianconeri extended their winless run to 5-games.
The season is still very long, and Lugano can still play a leading role. After all, they proved earlier this season that they can deliver fantastic and winning performances.
But… there is a "but". The Bianconeri should find a way to win games also when they're not at the top of their game. They should find a way to win also thanks to some individual play, or thanks to an above-average "determination" that currently seems to lack at the key moments of the games.
The impression is that everything is either "Black" or "White" for Lugano. And not only because these are the club colours. We mean, when Lugano deliver top notch performances they win, while when their performances aren't great, they lose. It's as simple as that.
If you want to go a long way, however, you should learn to win also when you have a bad night. So far, Sami Kapanen's guys haven't been able to do so, and therefore this time they're our "disappointment" of the week. They're a "flop". A "flop" that, however, might soon turn into a "top".
And so… up and at them, Bianconeri!