Ambrì-Piotta play their fourth ever Champions Hockey League game tonight in Slovakia against Banska Bystrica. The two teams are currently at the bottom of the Group G table and won only one game… in other words, they can't afford any further misstep if they want to make it to the next round.
Let's get to know more about the Leventinesi's opponents. The two games are scheduled for tonight in Slovakia and for October 16th, in Ticino.
HC05 BANSKA BYSTRICA
WEBSITE
THE ARENA

Banska Bystrica ice Stadium – Capacity 2'841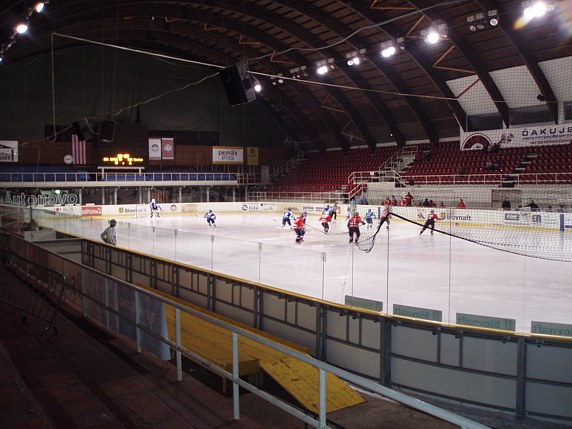 photo: eurohockey.com
LAST SEASON

Banska Bystrica won the 2018-19 title and that was the third consecutive title, after that between 2014 and 2016 they'd finished the season as silver medalists. We mean, we're talking about the most successful Slovakian team of recent years. The great recent results were the reward for the hard work done after the promotion in the top tier earned back in 2008.
THE COACH

Dan Ceman
Dan Ceman is the coach of Banska Bystrica for the second consecutive season. Previously, he'd spent 5 years in Denmark as the head coach of SonderjyskeE. His coaching career on the other hand had started in 2010 in Scotland, where he was coach and player of the Dundee Stars. As a player instead, the 46 years old Canadian was able to collect approximately 20 appearances in the AHL in the late 90s, when he even played alongside three former players of Lugano: Randy Robitaille, Benoît Gratton and Ville Peltonen. As a player, anyway, he spent most of his career as a center forward in England, Denmark and Scotland.
BANSKA BYSTRICA WELL KNOWN PLAYERS

Marek Bartànus
Marek Bartànus is playing his third season for Banska Bystrica where he arrived after three season spent playing with Kosice, always in Slovakia. Before his transfer to Kosice instead, Marek had played 8 games in our Swiss League with Ajoie… where he talliey 6 points. Anyway, he spent most of his career in Slovakia, after that he's played in the OHL with the Owen Sound Attack between 2005 and 2007, where by the way he was even a teammate of the former Kloten and Lugano player Bobby Sanguinetti.
Jan Brejcak
Jan Brejca came back to Banska Bystrica this season after a year spent in Finland playing for HPK. The 30 years old defenseman spent most of his career in Slovakia and Czech Republic… but during the 2015-16 season he was under contract in our National League with Davos! In Switzerland, he tallied 2 points – no goals – in 28 games… during which he was assessed a total of 63 PIM! To note that during his spell in Switzerland, he played also 2 games against Ambrì-Piotta, during which he didn't score points but was assessed a 2 minutes minor penalty.
CHAMPIONS LEAGUE EXPERIENCE

Banska Bystrica are playing their third Champions Hockey League and so far never made it through the group stage. In fact, he finished both participation at the bottom of the group table.
PREVIOUS CHL HEAD TO HEAD AGAINST SWISS CLUBS

Banska Bystrica played two games against Swiss clubs in the CHL. Right against Ambrì-Piotta's cousin Lugano last season.
01.09.2018
HC05 Banska Bystrica vs HC Lugano 5-2
Slovakia earned a surprising 5-2 home win against Lugano. The Slovakian's scorers were Guillaume Asselin, Tomas Zigo (2), Benjamin Marshall and the current import player of Kloten Éric Faille. The Bianconeri's scorers instead were Gregory Hofmann and Jani Lajunen.
07.09.2018
HC Lugano vs HC05 Banska Bystrica 4-1
There was no deal to make in Ticino though… Lugano immediately took a 2-goals lead with Benoit Jecker and Raffaele Sannitz. Then, the Slovakian scored with Robert Varga, but finally Linus Klasen and Jani Lajunen set the 4-1 final score in the Bianconeri's favour.
MEET THE TEAM… HC05 BANSKA BYSTRICA
THE FULL ROSTER, STATISTICS AND LATEST NEWS

https://www.championshockeyleague.com/en/teams/868a87fa2a8ef7d4a04ebc8f/hc-05-banska-bystrica#tab_team=stats&select_team=0&select_team-schedule=1
SCHEDULE
08.10.2019
HC05 Banska Bystrica vs HC Ambrì-Piotta
16.10.2019
HC Ambrì-Piotta vs HC05 Banska Bystrica
Good luck, HC Ambrì-Piotta!